I received complimentary products from Fairhaven Health to provide this review. All opinions are my own.
Quite often women accidentally wean their little ones during the holidays. Maybe it's because the how busy everything is or the stress. I'm not sure. My daughter was born December 9th. We managed to breastfeed through her first and second Christmas. Her first Christmas we didn't really go anywhere. It was rough anyways because she was a newborn with
lip tie
and I had no idea what I was doing. We made it through her second Christmas because she was kind of self weaning at that point, so she only nursed maybe 3 times a day at that point.
Milkies Nursing Blend-Breastfeeding Supplement
: A complete postnatal vitamin plus an herbal blend to help stimulate breast milk production.
Milkies Nursing Time Tea
: An herbal tea to help stimulate breast milk production.
Milkies Nipple Nurture Balm
: 100% organic nipple balm.
Including the tips mentioned above, taking a Breastfeeding Supplement like the Milkies Nursing Blend can really help up your breastmilk. Basically this supplement is a blend of herbs that have been used for centuries by nursing mothers when a boost in breast milk supply is needed, including fenugreek and fennel seed. Nursing Blend is the only dietary supplement that combines herbal support for breast milk production with the vitamin and mineral support that nursing moms need to produce quality breast milk. Which is great because quality is more favorable than quantity to me.
Reasons you might need a supply boost:
1. Little one is going through a growth spurt.
2. Pumping mama going back to work.
3. Taking certain medications.
4. Little one started eating more solid foods.
I'm going to be honest I haven't tried the tea yet. I'm just not really a tea person. But the Nipple Nurture Balm is coming in handy because I don't know about you but winter = dry, cracked nipples in this house. TMI? Probably, but y'all know that's just me. :)
With the Holidays coming up I thought I would share two awesome packages that I think would be great for expecting or new/nursing moms. These would also make great baby shower gifts.
Pregnancy Bundle
Breastfeeding Essentials Bundle
Fairhaven Health not only let me review their amazing breastfeeding products, but they were kind enough to let me give on reader the same products I received! One winner will receive Nursing Blend Breastfeeding Supplement, Nursing Time Tea, and Nipple Nurture Balm. RV $46.85! I included this in the #TurkeyHop because that's what my little man I eating for Thanksgiving! :D This giveaway is open to US only (sorry) and you must be 18+ to enter. Entry is simple, just follow the prompts on the Rafflecopter below. Please stay up to date with us by following us on Facebook. :)
Click
HERE
if you are having issues getting the form below to load.
a Rafflecopter giveaway
--------------------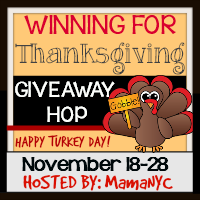 Welcome to the Winning For Thanksgiving Giveaway Hop!
Hosted By: MamaNYC
This event runs from November 18th to 28th and every person in this hop has a giveaway valued at $25 or more. Thank for dropping by and please don't forget to enter the other giveaways in the linky below!

Although I received free products to provide this review and giveaway, all opinions are my own. Nanny to Mommy is not responsible for sponsors that do not fulfill their prizes. Open to US only, must be 18+ to enter. One entry per household/IP address. Although Nanny to Mommy received complimentary items to provide this review/giveaway, all opinions are our own. Winner is chosen via random.org, ALL winning entries are verified. Entries are subject to change. If you have any questions about this giveaway or would like to sponsor a giveaway, please email diana.n.chastain@gmail.com.