This post is sponsored by DreamWorks Animation.
I am a baby of the '80s. And I love all things from that decade. I have been so excited to see Netflix bringing back some of my favorites like Care Bears and now She-Ra! The highly anticipated Netflix original, DreamWorks She-Ra and the Princesses of Power, is now available. In the 1980s series, She-Ra was extended from "Masters of the Universe" and was He-Man's long lost twin sister.
Inspired by the popular '80s animated series, DreamWorks She-Ra and the Princesses of Power tells the epic story of an orphan named Adora, who leaves behind her former life in the evil Horde when she discovers a magic sword that transforms her into the mythical warrior princess She-Ra. Along the way, she finds a new family in the Rebellion as she unites a group of magical princesses in the ultimate fight against evil. For the honor of Grayskull and in celebration of its early release thanks to fan excitement, we can enjoy 13 half-hour episodes on Netflix now!
Stevenson, an Eisner Award-winning writer and comic artist known for the beloved, female-centric stories in Lumberjanes and Nimona, brings her writing and visual flair to this reimagining of the hit series. The ensemble cast includes Aimee Carrero (Young & Hungry, Level Up) as Adora/She-Ra, along with AJ Michalka (The Goldbergs, Steven Universe), Karen Fukuhara (Suicide Squad), Marcus Scribner (black-ish), Lorraine Toussaint (Orange is the New Black) and Vella Lovell (Crazy Ex-Girlfriend). Guest stars include Sandra Oh, Jordan Fisher, Lauren Ash and Krystal Joy Brown.
To celebrate the release, I am excited to share with you a fun DIY Sword Craft that you can do with your kiddos:
DIY Sword Craft:
What you'll need: cardstock, scissors, 3-D puff paint, Colored cardstock, double stick tape, glitter, markers, pencil, and glue
1. Cut out all template pieces and arrange them on cardboard sheets. Trace around the edges of the templates on to the cardboard. Cut out each sword piece and set aside.
2. Print directly onto colored card stock sheets. You may instead trace the shapes onto white cardstock and color in your shapes. Cut out each sword piece and set aside.
3. Apply glue to the back of each cardstock piece and stick to the front of each matching cardstock piece. Match grip to grip and blade to each blade.
4. Repeat step 3 to cover the reverse side of your sword.
TIP: Add extra flair to your sword with 3-D puff paint, glitter, and markers!
Including this DIY sword craft kit, we received a bunch of other goodies to celebrate this awesome show. I am excited to share this "new" show with my daughter. I feel like it will be a great woman empowerment show for girls. I am also excited to see the story line and where the show takes us in the Honor of Grayskull!
Do you have Netflix? Do you think your kiddos would like this new show?
In recognition of International Women's Day, DreamWorks Animation has assembled the cast, crew and young fans of She-Ra and the Princesses of Power to remind girls around the world they have the power to achieve anything they set their mind to.
In a newly released video, the cast of She-Ra, including Aimee Carrero (Adora/She-Ra), Lauren Ash (Scorpia), Marcus Scribner (Bow), Karen Fukuhara (Glimmer), Merit Leighton (Frosta), Krystal Joy Brown (Netossa) and executive producer Noelle Stevenson open up about what She-Ra and its positive portrayals of women and girls means to them and the impact it has on the young audience who watches the show.
Led by Stevenson, She-Ra and the Princesses of Power features a wide variety of female characters brought to life by a diverse voice cast, with an all-female writers room, majority female crew, and a dedication to centering the stories of women in a way that both children and adults can relate to. The series is showing young audiences that no matter how they look or who they choose to be, they are worthy of love, respect, and a starring role in the stories they adore.
Join She-Ra in fighting the good fight - and forge a #BalanceforBetter in the world.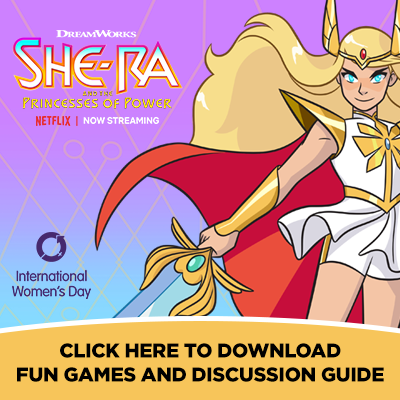 Thanks DreamWorks for the free DIY She-Ra crafts, tiara, character cards, and buttons.